The Sunset Marquis means so many different things to so many different people, and we think that's part of our magic. Our esteemed founder, George Rosenthal, shared in Entrepreneur Magazine's article "The Secret Behind This Legendary Hollywood Hotel's 50-Year Run" by Jason Ankeny, "[The Sunset Marquis] was purposefully built as a hotel for the entertainment industry… a wonderful gathering place for the exchange of ideas for writers, musicians, people in the film business… Rock and rollers were tearing the hell out of hotels, but they weren't tearing the hell out of ours." Keeping our guests deeply satisfied by fulfilling their every need – whether culinary or creative, relaxing or reinvigorating – has always been our mission. In order to achieve that goal throughout our now nearly 60-year history, we've consistently challenged ourselves to reimagine our possibilities and evolve with our clientele – while maintaining what's classically Sunset Marquis. In other words, our key to success and longevity is the simultaneous commitment to staying cutting edge while retaining that beloved familiarity that guests expect when they return to their "home away from home."
From our earliest days, George Rosenthal strove to keep his finger on the pulse: "I'm always looking for something we could do or could add… There's a certain amount of joy, but there's always concern. Are the plants cut right? Is the light right? Is the heat lamp correct? People look, but they don't see. I wish I could get everybody to look and understand that every aspect is important," he continued in Entrepreneur Magazine. The team at the hotel has cultivated Rosenthal's spirit of reinvention since the very beginning. So what does "cutting edge" mean to us today?
Imagine you are on your way to the Sunset Marquis for a much-anticipated staycation. Your driver pulls you into our private, underground garage. A glint around the corner catches your eye. There, glistening beneath the fluorescent lights, are six new Tesla Charging Stations and two Universal Charging Stations. Taking care of our guests is our top priority, and when we can do that while also staying committed to environmentally-friendly initiatives, that's our happy place. We've all enjoyed the acres of lush gardens throughout our grounds, and what says "fans of Mother Nature" better than having gardens everywhere.
Flying into Los Angeles and not sure what these new charging stations mean for you? Right now in summer 2022, guests who book our "Electrified" package will not only stay in one of our deluxe, one-bedroom villas, but they will also enjoy a complimentary Tesla Model S during their stay. If the urge to drive up the Pacific Coast Highway strikes your fancy, you've got no excuse not to go. This package also includes complimentary overnight parking, (of course) complimentary car charging in our private underground parking garage, as well as a daily breakfast credit at Cavatina for two people. Fuel up – at breakfast. We've got the power – electric. And we want you to enjoy both of those things.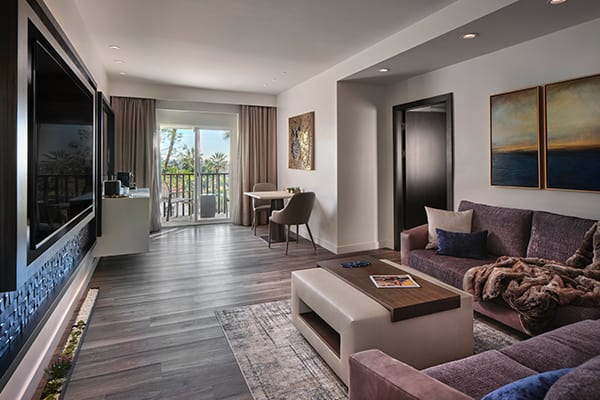 You're parked so now you enter our lobby, which is decked out in iconic photographs from the Morrison Hotel Gallery. You stroll past our first cool pool, and through our green outdoor hallways to discover your newly-renovated villa tucked away from the hustle and bustle of Los Angeles. The villa beckons you to enter. Or rather, you key-card in. Throughout our recent renovations, the extraordinary architects and designers at Eric Rosen Architects strove to and succeeded in maintaining "the unique and special character of the garden environment, the unusual variety of floor plans, the culture and history of the hotel and its clientele," which they relayed to us in their "Sunset Marquis Villas: Your Home Away From Home" interview.
As you enter, you notice that this villa is not your everyday, vanilla villa. It's high-tech and high-end. Automated lights mean you don't even have to lift a finger to see where you're going. Automated heating and cooling mean you're always comfortable. You've got all the control to light and heat and cool your home away from home to the very specifications you enjoy back at your real home. The state-of-the-art Smart TV might be so enticing that it inspires a night in. If so, the "drybar" cabinet with refrigerated and unrefrigerated storage drawers will keep all your snacks and drinks chilled for the evening.
Again, when your luxuries make us more environmentally sustainable, that's what we call our favorite kind of win-win. We've included low-flow fixtures in the bathroom to limit water waste, high-efficiency LED lighting to keep you beautifully lit, automated sunscreens to beat the heat, and blackout shades for sun control and a great night's sleep. Run your fingers along the new Archoterra wall panels made from recycled paper. Take in the view from your window looking out at our flowering oasis and let out a sigh of relief. You've arrived.
After settling in, you want to do two things: get cozy and stay fit. The rich, soft fabrics of your room, the plush and luxurious bed, the squishy couch cushions, and the perfectly-shaped table chairs prohibit discomfort. Try on the softest fluffy robe and slippers that Aisling Bea officially made famous on Jimmy Kimmel Live!. Then, if you booked the 2022 "Treat Yourself Well" package and make a quick call to the front desk, our staff will bring the new one-of-a-kind THROWDOWN F.X.D. "all workouts in one" workout bench right to your villa. This package also includes SOLU Speakers N.O.W. Tone Therapy system for energizing in-villa meditation. For those of you who prefer to flex your muscles with an audience, we have complimentary guest passes to Equinox, located only a four-minute walk from the hotel. We are also currently redesigning and building a new on-property gym, for those who want to flex their muscles only in front of a Sunset Marquis audience. Keep an eye out on our social media for updates about our new gym!
We hope you've enjoyed your tour of the new innovations happening at the Sunset Marquis, and we encourage you to visit us soon to take in our newly renovated property for yourself. Sixty years of transformation is a lot, but we're committed to continuing to do the work. We promise to never change, and we promise to always evolve.