The Sunset Marquis's role in the history of rock 'n' roll is no secret. For decades, our hotel has welcomed musical legends – offering an escape, a home, or quite frankly a party. Some of these legendary moments go down in rock 'n' roll history by making a big splash. *Queue* Flea's rooftop cannonball into our pool. While other musical memories have a more subtle presence, decorating our hallways and rooms in beautifully simplistic black frames. This photography on our property transports guests to intimate moments with musical geniuses: stuck in a cab with The Beatles, staring straight into Joni Mitchell's heart, or rockin' out on our astroturf poolside with Dee Dee Ramone.
It's no surprise that the art curated around our hotel still sings to the soul of the 60s, 70s, 80s, and 90s. And it's even less of a surprise that the collections are curated by our partner, the Morrison Hotel Gallery, which infamously represents over 125 of the most highly acclaimed music photographers. Just six years after we opened our doors in 1963, the Morrison Hotel Gallery's eponymous photo of The Doors was taken. They did it behind a camera lens, and we did it behind the Sunset Marquis walls. But we both did it – celebrate, support, and capture the stories of creative genius. And we're both still doing it.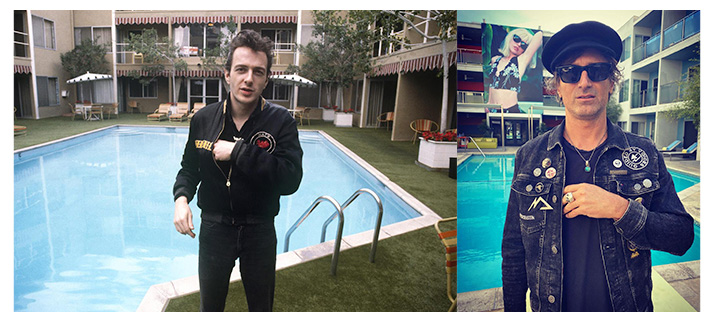 Fifty plus years later, the iconic moments archived by the Morrison Hotel Gallery have continued to induce a ripple effect on our property, inspiring our guests to recreate those moments. Joe Strummer poolside at the Sunset Marquis in 1980 meet Joe 2.0 in 2020. Same pose, same pool, less astroturf, 40 years later.
Legends can also inspire legends. ZZ Top hanging his head out of the window of a classic car in front of our entrance was recreated by Billy Bob Thornton. Compare those photos. Beyond the missing beard and hat, can you spot even six differences?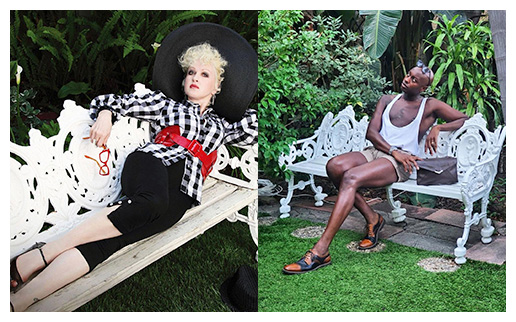 But the boomerang of infamous snapshots extends beyond our big pool deck and entrance awning. It's the intimate moments captured within the hideaways of the Sunset Marquis's property. Some happening behind closed doors or in tucked-away gardens.
These feel especially profound (especially for us). We're thinking of Morissey's Sunset Marquis Bath in 1991. Cyndi Lauper[3] 's iconic checkered pose conclusively determined that spot was "Cyndi's Garden." A multitude of guests have made their way to Cyndi's white iron bench to pose, ponder, and praise[4] one of the queens of pop. And since we mentioned Flea's rooftop cannonball earlier, we'll add that we're grateful some iconic moments have been rethought and redirected. Backward poolside plunges[5] are preferable (because… safety). Clothes obviously included.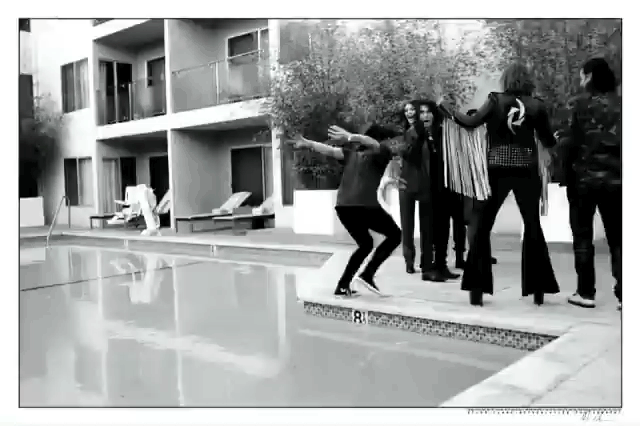 These moments captured at the Sunset Marquis, whether framed on our walls or framed on your social media, remind us why we created our hotel in the first place. Why partnerships like ours with the Morrison Hotel Gallery and NightBird Studios are essential to our ethos. Music is our history. Artists are our history. Our West Hollywood hotel is a shoutout to all the creatives who have made, listened to, or screamed for the hits over the years. Our hotel is a place to create new memories and also relish in and often recreate past iconic moments. To be poolside, garden side, or curbside with some of the industry's GOATs. Here's to another 50 plus years of iconic moments – whether or not you have a camera ready to capture them.